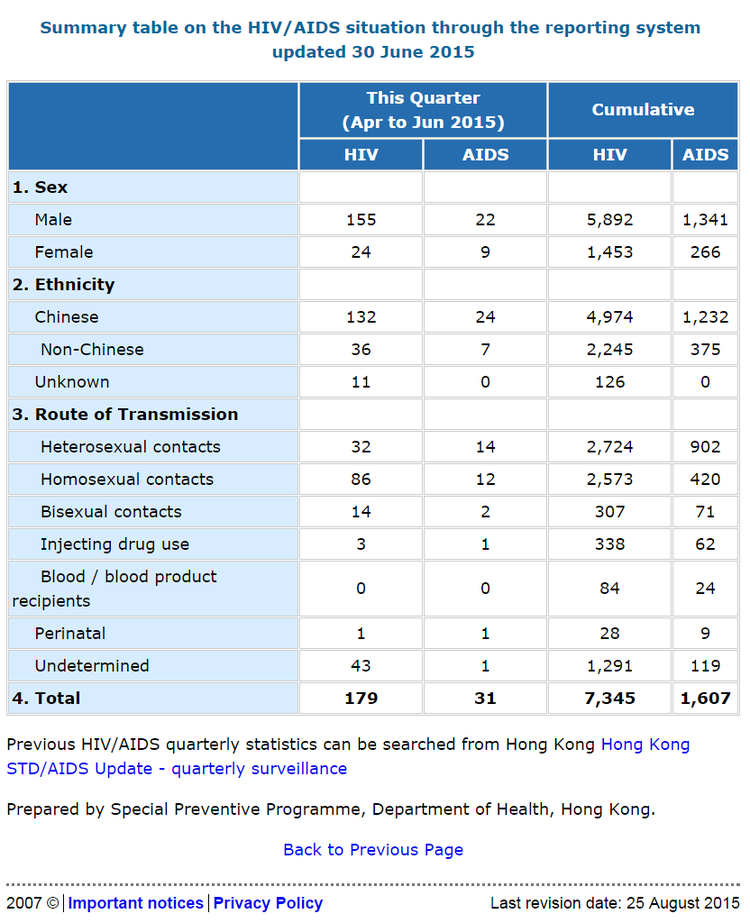 Today (25th August), the Centre for Health Protection of the Department of Health announced that 179 cases of HIV infections were reported in the second quarter of 2015 (April to June). 100 cases were acquired via homosexual or bisexual contact, of which 45 cases (45%) are males aged 29 or below, revealing a trend of increasing HIV infection among young gay men. AIDS Concern's recent research shows that the low condom use rate among young gay and bisexual men (aged 25 or below) heightens the risk of HIV infection.
Jim Hoe, Youth Programme Manager at AIDS Concern, highlights unprotected sex as the main route of transmission. "AIDS Concern collected 803 questionnaires completed by young gay and bisexual men during the period of 1st April, 2014 to 31st March, 2015. 372 responses revealed that they had sexual intercourse with their boyfriend(s) in the past 6 months, but 171 of them (171/372, 46%) stated that they did not use condoms every time during sex. The condom use rate is only 54%. The two major reasons for unsafe sex practice are respondents' trust towards their partner (62/171, 36%) and not knowing how to reject the request of practicing unsafe sex (31/171, 18%)," Hoe explains.
In response to the epidemic, Hoe says that AIDS Concern is stepping up life skills education to young gay men through workshops and seminars, through which they can enhance their skills of problem-solving and sexual communication. This includes encouraging their partners to use condoms and rejecting the request to practice unsafe sex. Ultimately, it can help to reduce their risk of HIV infections.
Mandy Cheung, Programme Director at AIDS Concern, also encourages young gay men and other individuals who may have engaged in unsafe sexual behaviour to take an HIV antibody rapid test as soon as possible. The one-stop testing services at AIDS Concern are free, anonymous and confidential with counselling, referral and support services.
AIDS Concern Rapid Testing Services
Testing Location  : AIDS Concern Health Service Centre
Address : Flat B, 3/F, Fu Lee Commercial Building, No. 14 – 20 Pilkem Street, Jordan, Kowloon
Enquire & Booking : 2394 6677