Pre-Exposure Prophylaxis (PrEP) is a scientifically proven medication that stops HIV infections. It is strongly recommended by the World Health Organisation as one additional option to prevent HIV.
PrEP is now available in many countries but not yet in the Hong Kong public health system. Even so people have started to access PrEP from other places.
It is important that they understand how to take PrEP properly and have the correct medical checks.
People going onto PrEP need to have HIV testing, STI check-up, liver and kidney function testing, and doctor consultation.
MY PLACE by AIDS Concern offers the first community-based PrEP check-up service in Hong Kong at a reasonable price.
PrEP is for people who are HIV-negative and it can be used by men and women, both trans and cisgender.
PrEP may be a good option for you if:
1. you're in an ongoing sexual relationship with a partner living with HIV who does not have an undetectable viral load.
2. you're a gay or bisexual man who has multiple sexual partners and you don't always use condoms.
3. you're a gay or bisexual man in a new sexual relationship but not yet aware of your partner's HIV status and don't always use condoms.
4. you're not using condoms with partners of the opposite sex whose HIV status is unknown and who are at high risk of HIV infection (for example, they have multiple partners, or have bisexual male partners)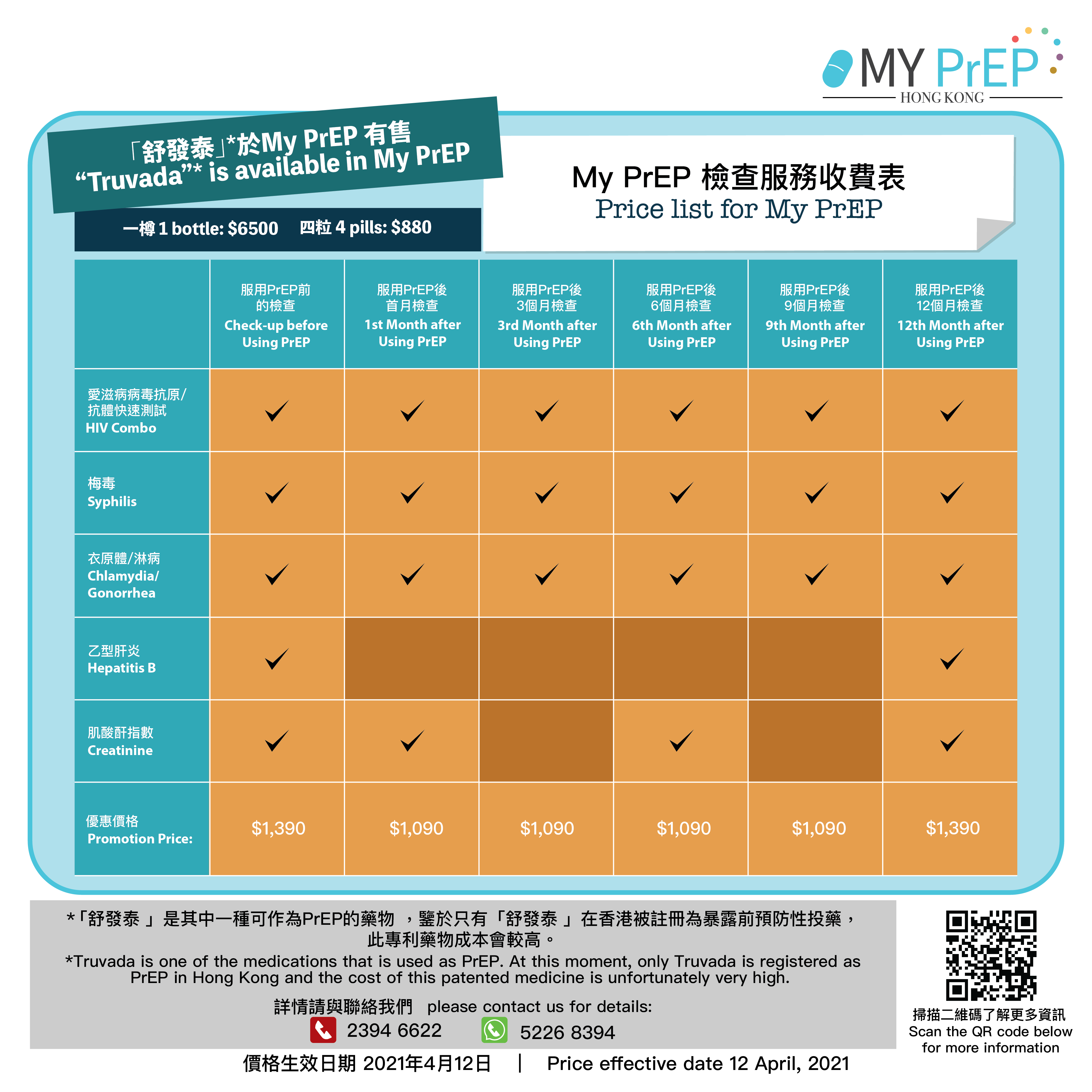 The cost of the MY PrEP service is being subsidised by AIDS Concern to keep the price low for community members. AIDS Concern is using charity funds to do this because we think it is important to make PrEP accessible for people in Hong Kong.
Tel : 2394 6622
Email : service@myplace.org.hk
Monday
10:00-18:30
Tuesday
Closed
Wednesday
13:00-21:30
Thursday
13:00-21:30
Friday
10:00-18:30
Saturday
09:00-17:30
Closed on Sundays and Public Holidays