Announcement
AIDS Concern Zero Stigma Coffee Truck 2022 Challenges Public on Inclusivity
1st December marks the World AIDS Day. AIDS Concern responds to the worldwide initiative with the Zero Stigma Coffee Truck and a series of activities to promote anti-discrimination messages, hoping to draw Hong Kong people's attention to the needs and well-being of people living with HIV.
This year's Zero Stigma Coffee Truck will be held from 2nd December to 4th December. With the theme of "Inclusivity", AIDS Concern's team of staff and volunteers will distribute 2,000 cups of free coffee sponsored by illy and Kerry Coffee to the public, while conducting survey to understand the general concept of people toward the topic of HIV/AIDS. With proactive public education on the streets, the team hopes to build an inclusive society by improving knowledge and understanding of people towards people living with HIV. This event is sponsored by GSK (GlaxoSmithKline) and Gilead (Gilead), with volunteer support from S&P (Standard & Poor's).
The Coffee Truck will be parked at the Prince of Wales Hospital in Shatin and various districts in Hong Kong. Hospital staff and the public are invited to enjoy the free coffee that are made to thank the hospital staff for their support in combating HIV throughout the years, and to reinforce the need for inclusive healthcare.
Locations of Coffee Truck:
Date
2/12/2022 (Friday)
3/12/2022 (Saturday)
4/12/2022 (Sunday)
Time
10am – 5pm
10am – 5pm
10am – 5pm
Location
Prince of Wales Hospital

30-32 Ngan Shing St, Sha Tin
(* for hospital staff only)

10am – 1pm
Dundas Street, Mongkok

2pm – 5pm
Haiphong Road, Tsim Sha Tsui

10am – 1pm
Paterson Street, Causeway Bay

2pm – 5pm
Hollywood Road, Central
The ambassador for the Zero Stigma Coffee Truck 2022, Mike Tsang, will be distributing coffee on the third day of the event:
Date:4th December 2022
Time:3pm – 4pm
Location:Cleo Dine & Lounge – G/F, 30 Hollywood Road, Central
Guest:Mike Tsang (Ambassador of Zero Stigma Coffee Truck 2022)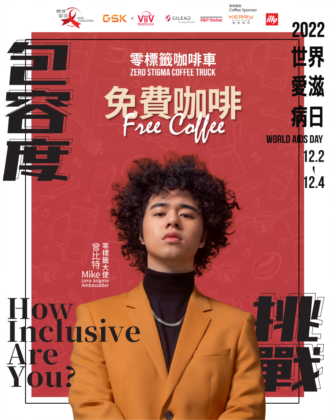 For enquiries, please contact Ms. Jeanne Cheung (Senior Officer, Marketing and Communications) at 28641315
About AIDS Concern (https://aidsconcern.org.hk/ )
AIDS Concern was established in 1990 as the first non-government charity organisation committed to the service of AIDS care in Hong Kong. Our vision is to see Hong Kong with ZERO new HIV/AIDS infections, ZERO stigma for people living with HIV and ZERO AIDS deaths. AIDS Concern will lead social change by individuals, organisations and society to achieve TRIPLE ZERO, to stop the spread of HIV/AIDS and eliminate stigma for people living with HIV.
Tel:(852) 2898 4411 Fax:(852) 2505 1682
Email:enquire@aidsconcern.org.hk
Website:www.aidsconcern.org.hk
Facebook:www.facebook.com/AIDSConcern