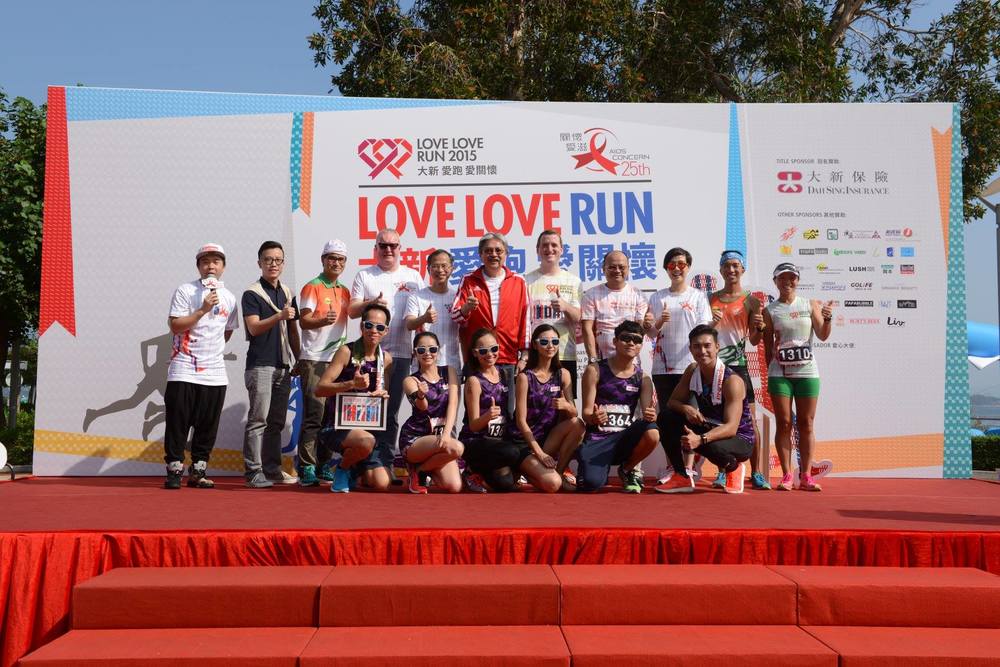 AIDS Concern held the charity Love Love Run 2015 in the Pak Shek Kok Waterfront Park today to support our TRIPLE ZERO mission- ZERO new HIV infections, ZERO stigma and ZERO AIDS deaths.
Guests who attended the Run included Mr. John Tsang Chun-wah (曾俊華先生), Financial Secretary and Mr. Jasper Tsang Yok-shing (曾鈺成先生), President of the Legislative Council. Ms. Elena Kong Mei-yee (江美儀小姐) attended as the Ambassador of the event.
Mr. John Tsang Chun-wah (曾俊華先生), Financial Secretary, gave a speech and said, 'It is distressing to learn that discrimination against people living with HIV still exists in our community and this wrong perception might have dissuaded some from getting tested and receiving treatment. In this regard, I wish to thank AIDS Concern and the business community for organizing this meaningful Love Love Run event as well as all participants for making a difference in the fight against HIV/AIDS.'
Mr. Jasper Tsang Yok-shing (曾鈺成先生), President of the Legislative Council, said in his speech, 'I believe there is no dispute among all parties in the Legislative Council in support of AIDS Concern. There is no difference between the position of the whole legislature and that of the Government either. It is safe for me to say I agree with every word the Financial Secretary has just said.'
Mr. Jimmy Poon, Chief Executive Officer of Title Sponsor Dah Sing Insurance, said, 'As a company with roots in Hong Kong, Dah Sing Insurance sees contributing to society and supporting Hong Kong community services as our responsibility. We hope that all runners have strived for the best in Love Love Run as we always do with the Hong Kong spirit. All funds raised are donated to AIDS Concern for their education and support work.'
Chief Executive of AIDS Concern Mr. Andrew Chidgey said, 'There are currently 2 new HIV infections in Hong Kong every day, which warrants immediate action. AIDS Concern is committed to educating the public and providing support to people living with HIV and high-risk groups. We operate a Health Service Centre where we provide testing and counselling services. We thank Title Sponsor Dah Sing Insurance and all participants of the Love Love Run for their support, which makes our HIV action possible.'
1,100 runners participated in Love Love Run. Mr. Thomas Kiprotich (finish time 00:48:53) and Ms. Sophia Lai (finish time 01:00:35) are the male and female champions of the 15km group.
Photos of the event are available at https://www.dropbox.com/sh/zh1vfd82kafhhcn/AACKevfPVdiTUzN724eWYqita?dl=0
For further information, please contact
Annie Li
Communications Officer
AIDS Concern
Tel: 2898 4411
annie.li@aidsconcern.org.hk