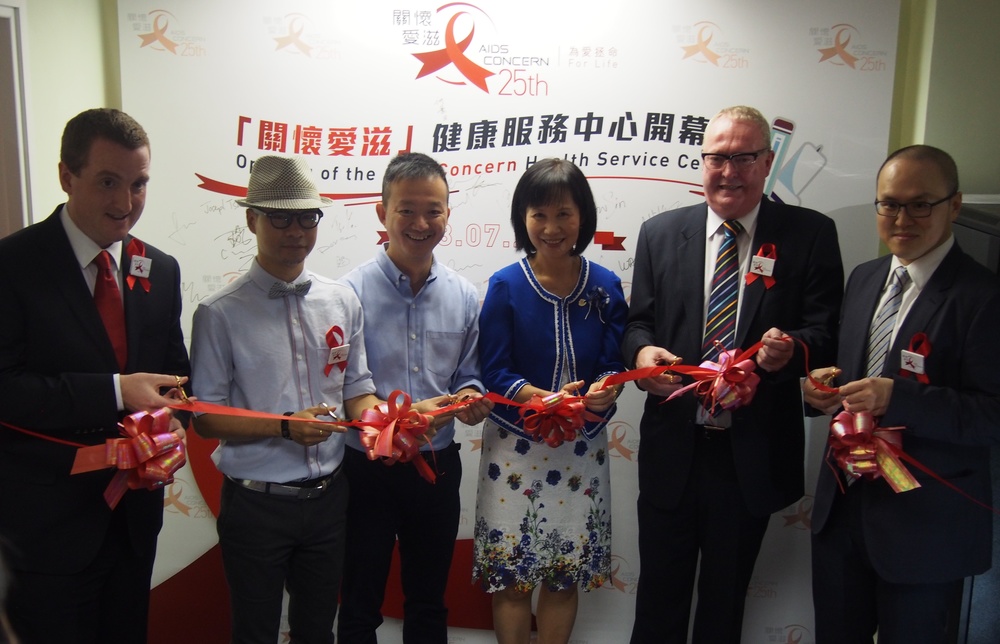 [For immediate release] 28 July, 2015
Today (28th July), AIDS Concern opened a new Health Service Centre in Jordan to tackle rising rates of HIV infection in Hong Kong. Located at Flat B, 3/F, Fu Lee Commercial Building, No. 14-20 Pilkem Street, Jordan, Kowloon, the new Health Service Centre will be an important step for AIDS Concern to expand and improve its services to people at risk of HIV and people living with HIV.
The ceremony was joined by AIDS Concern community partners including Mr Ray Chan Chi-chuen, Member of the Legislative Council; Dr Susan Fan Yun-sun, Chairperson of the Hong Kong Advisory Council on AIDS and famous local radio DJ Mr Brian Leung who is an ambassador for AIDS Concern.
Mr Andrew Chidgey, Chief Executive of AIDS Concern said: "There are more than three times as many new HIV infections in Hong Kong per year as 10 years ago. This new centre will increase the amount of HIV testing and also provide support services to people living with HIV."
At the occasion of the opening Mr Chidgey also announced that in the coming months AIDS Concern will launch a community inquiry to better understand the needs of gay and bisexual men who are high risk for HIV. "For the inquiry we will focus on how to enhance the understanding of young gay and bisexual men on HIV/AIDS, exploring community views on treatment options and considering new means to encourage gay and bisexual men to contribute to HIV/AIDS prevention." Andrew explained.
In describing the features of the new Health Service Centre, Miss Mandy Cheung, Program Director of AIDS Concern, highlighted the centre's proximity to the MTR Jordan Station providing easier access of testing and counselling services. "The Health Service Centre is more spacious than the previous site with sound-proofed private testing rooms and counselling rooms to ensure a comfortable environment as well as confidentiality for clients. Furthermore, there is an activity room which will allow for on-site volunteer training and for community meetings. Anyone who is concerned they may have had unsafe sex and wants to get tested can telephone AIDS Concern on 2394 6677 to book an appointment." Mandy said.
A tour introducing AIDS Concern's testing and counselling services was held at the venue for the participants at the opening.
END
For media enquiries and details about the above press release, please kindly contact:
Miss Spring Kok, AIDS Concern Assistant Communications Manager
Tel.: 2898 4411/9324 1242
E-mail: Spring.Kok@aidsconcern.org.hk
About AIDS Concern
"AIDS Concern" was established in 1990 as the first non-government charity organization committed to the service of AIDS-care and consultation in Hong Kong.  Our vision is to create "TRIPLE ZERO" Hong Kong, this means ZERO new infections, ZERO stigma and ZERO AIDS deaths. AIDS Concern will lead social change by individuals, organisations and society to achieve TRIPLE ZERO, to stop the spread of HIV/AIDS and eliminate stigma for people living with HIV.
Address: 17B, Block F, 3 Lok Man Road, Chai Wan, Hong Kong
Tel: (852)2898 4411
Fax: (852)2505 1682
Email: enquire@aidsconcern.org.hk
Website: www.aidsconcern.org.hk
Facebook: www.facebook.com/AIDSConcern