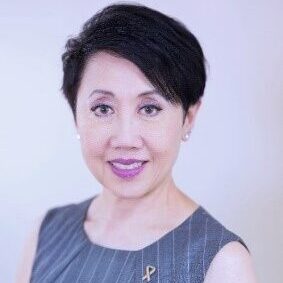 Fern is a seasoned leader and changemaker with solid experience in both the non-profit and private sectors in Asia. Over her career, Fern has successfully led major change initiatives, and is sought after for her expertise in responsible and strategic leadership, diversity and inclusion, talent development and cultural change.
Fern is the former CEO of Community Business, a Hong Kong based not-for-profit dedicated to advancing responsible and inclusive business practices in Asia. With almost two decades of experience in harnessing the power of business to drive social change, Community Business has an established reputation as a thought leader and trusted partner. Through its pioneering research, networks, campaigns and events, Community Business works to inspire leaders at all levels, increasing their understanding of key issues and motivating them to take action while providing them with practical tools and skillsets to instill positive change.
Over 7.5 years as Community Business' CEO, Fern oversaw the expansion of its products and services, establishment of its Indian subsidiary, and development of the ground-breaking LGBT+ Inclusion Index and annual Awards. The organisation's work in the area of LGBT+ inclusion over the last decade has helped to raise awareness of the importance of equality, acceptance, and allyship for the LGBT+ community, enabling companies to create more inclusive workplaces and to enhance their brands. Fern has been both an author of and contributor to Community Business' leading research and opinion pieces, and has been its spokesperson on diverse topics such as gender, disability, employee wellbeing, mental health, racism, ageing, and work/life balance. She also served on the Steering Committee of the 30% Club Hong Kong which believes in collaborative, concerted business-led efforts to help accelerate progress towards gender parity on corporate boards.
Originally from Canada, Fern has 40+ years of broad experience in financial services, technology, change management, and in workplace diversity and community programmes. She held executive roles in the HR, technology and operations, governance, strategy, and corporate affairs functions at Standard Chartered Bank and was the bank's first diversity and inclusion champion for Hong Kong. Fern volunteers as chair of the board of KELY Support Group, a Hong Kong charity dedicated to supporting young people, and serves as a board member of charities AIDS Concern and Beyond Vision International, and advises several NGO's working on causes related to diversity and inclusion.
Twitter:     @fernngai
LinkedIn:   linkedin.com/in/fern-ngai-a392914