Press Release
HIV Virtual Conference 2020:
ENDING HIV BY 2030 ARE YOU READY?
To celebrate the 30th anniversary and provide updates on HIV/AIDS work, AIDS Concern will be holding "HIV Virtual Conference 2020: Ending HIV by 2030 Are you Ready ?" on the 20th November 2020 (Friday) 09:00AM – 18:00PM.
Supported by GSK, Gilead Science and Janssen, the conference brings together various guest speakers introducing updates on research and frontline work related to HIV/AIDS.
We are honoured to have speakers such as Dr. Bonnie Wing Chun Kwan (senior medical & health officer and a specialist in Infectious Diseases), Dr. Alfred Sit Yao Wai (Special Preventive Programme, Department of Health), Prof Grace Lui Chung Yan (the Chinese University of Hong Kong), Dr. Benny Huang Shih Tse (Division of Chronic Infectious Disease, Centre for Disease Control, Taiwan), Mr. Doan Thanh Tung (director of the Lighthouse Social Enterprise, Vietnam), Prof. Ng Man Lun (retired psychiatrist, council member of the Family Planning Association HK), Mr. Alex Sparrowhawk (Terrence Higgins Trust, London), Mr. James Chau (international broadcaster), Mr. Andrew Chidgey (Chief Executive, AIDS Concern), Mr. KB Lee Kai Lung (Programme Manager, AIDS Concern) and Ms. Charmaine Chan Shuk Ming (Programme Manager, AIDS Concern).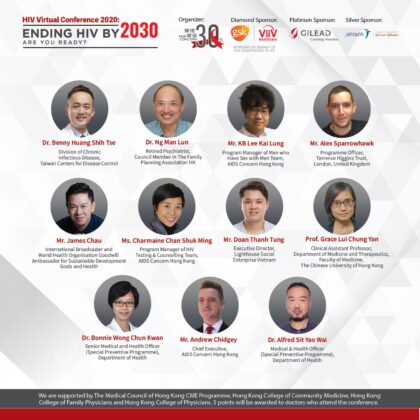 Audience could participate by simply registering with this link: http://aidsconcernconference2020.eventcreate.com
About "AIDS Concern" (https://aidsconcern.org.hk/)
AIDS Concern was established in 1990 as the first non-government charity organisation committed to the service of AIDS care in Hong Kong. Our vision is to see Hong Kong with ZERO new HIV infections, ZERO stigma for people living with HIV and ZERO AIDS deaths. AIDS Concern will lead social change by individuals, organisations and society to achieve TRIPLE ZERO, to stop the spread of HIV/AIDS and eliminate stigma for people living with HIV.